Flexible Cable
CONSTRUCTION
Conductor, bare copper, fine stranded wires. According to HD 383 and IEC 60228 class 5. Core insulation, PVC compound 4 cores included colour code. More than 4 cores black colour and number printing. Grounding core; green/ yellow. PVC outer jacket; colour black.
TECHNICAL DATAS
Operating Voltage H05VVH6-F : 300 / 500 V.
Operating Voltage H07VVH6-F : 450 / 750 V.
Test Voltage : 2500V
Temperature Range : -15 °C+70 °C Min.
Bending Radius : 10 X overall cable diameter
APPLICATION
For protected Installation in equipment and lighting fitting. Also for conduit, on and under plaster.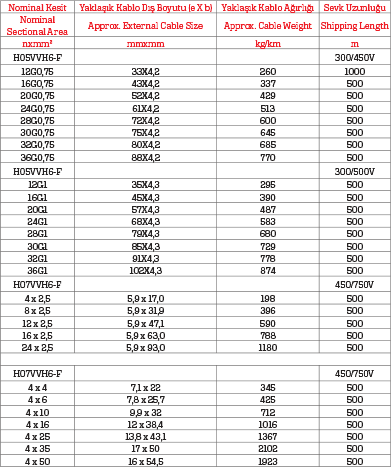 Technical Specifications: